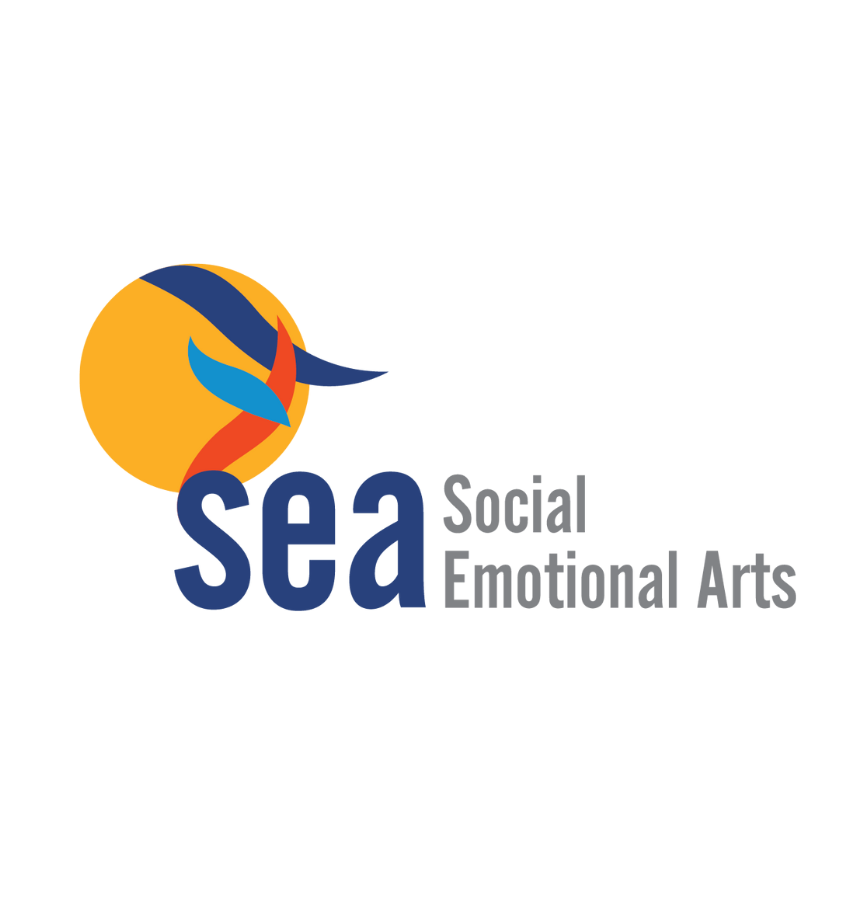 Upcoming Cohorts
9 Weekend Sessions (excluding holiday weekends)
April 1 - June 25, 2023 [Suggested Application Deadline: February 15]
July 15 - September 17, 2023 [Suggested Application Deadline: May 15]
October 7 - December 17, 2023 [Suggested Application Deadline: August 7]
Apply Here
Online Certificate Program in Social Emotional Arts (SEA)
The Online Certificate Program in Social Emotional Arts (SEA) empowers educators, community arts professionals, mental health practitioners, and others interested in maximizing social-emotional benefits of arts experiences, which includes minimizing self-judgment and anxiety that can impede learning.
This online certificate training is interactive and experiential, and will help prepare participants to facilitate groups in a virtual space. It features the use of trauma-informed creative approaches from cultural perspectives. Topics include group cohesion, verbal and nonverbal communication, neurodiversity and learning differences, self-care and stress management, strengthening personal presentation skills, and evaluating program outcomes. SEA also offers best social-emotional practices in the multiple disciplines of art, dance/movement, drumming, music, poetry/writing, and theater because of their symbiotic benefits.
The Certificate Program not only teaches structured and scripted activities that can be used in the community, but also teaches trainees how to develop and deliver their own effective curricula for youth and other populations. It is practically designed to address challenges often encountered by those serving in the front lines of need.
Trainees that attend all sessions and complete all course requirements satisfactorily will obtain a Certificate in Social Emotional Arts from Arts & Healing Initiative. Certificate holders that demonstrate solid mastery of SEA training practices may be recommended for future teaching opportunities in the community.
Significance
Through the 60-hour online training, you will learn to develop and deliver process-oriented arts experiences in school and community settings to improve emotional well-being, the social climate, and the learning environment. Educators and community arts professionals are often not sure what to do or say when inevitable "stuff comes up," like when a student comes crying after seeing a performance and says, "that happened to me." There can also be unintended consequences of arts experiences, such as self-judgment, anxiety, and excessive vulnerability.
To help strengthen the role of educators and arts professionals in community health, we offer this certificate program aimed at maximizing the social-emotional benefits of arts education, and the effectiveness of program development and delivery, through a focus on the process of creative expression. The process of creative expression can be used as a metaphor for life that deepens reflection and dialogue, which brings meaning, self-awareness, empathy, and connection to others. Moreover, engagement in the process of creative expression without expecting perfection or mastery reduces self-judgment and anxiety that can impede learning, creativity, and future participation. Without performance anxiety, students are more apt to volunteer to lead activities and share ideas, which transfers to more active participation in the classroom and greater willingness to take positive risks, such as volunteering to sing solos in the school chorus. In the service of life, these students are acquiring skills for thinking on their feet, generating creative solutions, and expressing themselves with confidence.
The National Education Association advocates the use of the arts as a "hook" for getting students interested in school. Ånd moreover, arts programs that can be shown to improve social-emotional learning and that are evaluated in ways that are meaningful to stakeholders, such as school administrators, will also increase the likelihood of adoption by schools—which will increase access to arts experiences for underserved youth.
Receive a Certificate in Social Emotional Arts
We offer our 60-hour Certificate Program in Social Emotional Arts four times a year. Trainings are open to all—from community arts professionals to educators to mental health practitioners. CEs are also available for mental health professionals for an additional fee.
Trainees that attend all sessions and satisfactorily complete all course requirements will obtain a Certificate of Completion in Social Emotional Arts. Certificate holders that demonstrate solid mastery of SEA training practices may be recommended for future teaching opportunities in the community.
For more information on a particular session, please email sea@artsandhealinginitiative.org.
Fee
$1,989. Financial assistance is available to those in need.
Teaching Faculty & Program Development Team
Meet our teaching faculty and program development team. 
Testimonials
"The SEA program pushed my creative teaching to new levels. The techniques shared are practical and are ready to implement in the class. If you are up for a challenge that will move you from a comfort zone to a full spectrum creative teacher, this program is for you." —SEA Trainee
"This work is healing, powerful and is integral with working with many populations. So many social-emotional and cognitive skills are strengthened through this work AND it's fun!" —SEA Trainee
"Schools and teachers NEED to be able to offer these tools and strategies to their students. All teachers would benefit from this training. Personally, I feel as though I have been cracked wide open and there is so much more inside me that can emerge." —SEA Trainee
"I've learned SO much from the classes—from the coursework, the instructors, AND the participants! The experience has helped me enormously as an educator and as a person."

— Kate Pomatti, Art Teacher at Lincoln Middle School in the Santa Monica-Malibu Unified School District
"I've learned so much about myself, my confidence has gotten stronger and it was a wonderful bond and support that we as a cohort created for each other. I am so grateful! Honored! Thank you!"—SEA Trainee
"When I first came across the SEA Program, I felt like I had stumbled upon a gold mine! This program has far exceeded my expectations. What a rewarding experience it has been to join with like-minded peers and to learn from leaders in the fields of arts and healing. Not only have I gained skills to apply in my professional life, but I've also experienced growth and healing on a deeper personal level. I urge you to sign up for his priceless program! You will be so grateful you did!" —SEA Trainee
"Get ready to go on the journey of your lifetime. The experience was very eye opening and heart healing. This program pushed me beyond my comfort zone. It made me aware of my own limitations and it gave me the empowerment to challenge them. This is a great program with so many benefits. Enjoy the ride!" —SEA Trainee
"An awesome, life-changing program! It was eye opening, and has put arts therapy into a whole new perspective for me. There is no doubt that the knowledge I have gained while at SEA will have a profound impact on the way I facilitate moving forward. This is a program that every educator and therapist should have the opportunity to participate in. Thank you again from the bottom of my heart for making my time at SEA an experience that I will never forget!" —Debbie Kazel Sipos, Music Teacher and Music Therapy Student
"I'm not exaggerating when I say that the SEA program changed my life. You'll grow as a person, and can bring what you learn to any population that you might serve. I highly recommend it."— Deborah Scott Studebaker, Writer and Writing Teacher
More Information
Instructor Bio
Pre-Registration Information
Financial Assistance

We believe transforming lives through creative expression should be financially accessible. Payment plans and partial scholarships are available to those in need of financial assistance. Decisions on partial scholarships will be based on a variety of considerations, such as financial need and potential for applying what is learned in the training. If you need to apply for financial assistance, when filling out the SEA application, please additionally complete the Financial Assistance section of the application.
Session Descriptions

The curriculum is experiential as well as didactic and is taught by board-certified creative arts therapists or individuals with equivalent expertise in social emotional arts practices. The certificate program is designed to reinforce learning by integration of important concepts across all sessions.

Below is an example of a typical program schedule:

Introduction to Theory & Practice: Participants will learn about the science behind the innate benefits of the arts and strategies for maximizing them. They will also experientially learn the structure of a social emotional arts session and guidelines for creating an environment that encourages engagement and learning.

Communications from Trauma-Informed & Cultural Perspectives: Participants will learn culturally-responsive skills from trauma-informed communication while gaining intercultural awareness, empathy, and critical self-consciousness. They will learn and practice engaged listening and verbal communication skills for interpersonal connection and problem-solving.

Needs Assessment & Evaluation: Participants will learn ways to identify the needs of a population to be served and ways to measure program outcomes. Needs assessment and evaluation are not rocket science; this session will articulate their value in producing effective and measurable program outcomes. The goal of this session is to demystify the field and empower participants in these practices.

Best Practices in Dance/Movement: Participants will experience how to engage youth and other populations in dance/movement-based activities for expanding movement vocabulary, self-awareness, other awareness, and sense of community. This session will demonstrate ways to make movement an accessible process.

Self-Care Tools for Managing Stress: Traumatic stress responses can be triggered by sensory experiences, which can in turn trigger vicarious or secondary trauma in those bearing witness—including facilitators. In this session, participants will learn simple ways to manage their own unproductive habitual responses to stress as well as learn how to de-escalate stressful interactions through boundary setting.

BTO Drumming: This session will demonstrate activities from the UCLA research-based program,Beat the Odds®, which integrates activities from group drumming and group counseling for social emotional skill building. Participants will also experience strategies for working with different age groups and abilities.Beat the Odds®is scripted for clinical and rhythmic integrity and has been successfully delivered in many school and community settings.

Best Practices in Poetry/Writing: Participants will experience poetry-based activities designed to enhance creativity, tap into personal life experience, encourage self-expression, and facilitate meaningful dialogue with youth and adults.

Best Practices in Art (Parts 1 & 2): Participants will create art to communicate their thinking and will experience art activities designed to facilitate meaningful social interaction. Participants will also learn the social emotional nuances of media selection and how to engage in inquiry and dialogue about art without judgment. In addition, the strategic use of art to facilitate positive behavior at different developmental stages will be explored.

Best Practices in Theater (Parts 1 & 2): Participants will experience theater-based activities for youth and adults that build self-esteem, spontaneous self-expression, and positive social connection. This session integrates learning from other art forms and enables each participant to stay in the present moment and stretch their personal creativity in a supportive environment.

Best Practices in Music: Participants will learn how to engage in mindful listening as a process for deepening understanding of self and others. They will also learn what elements can enable a song or piece of music to be perceived as relaxing, soothing, or calming. In addition, they will experience how a group music making activity can create community and reduce stress.

Presenting Yourself: A facilitator's presence can have an impact on the comfort level of group members. Participants will learn physical and mental techniques for strengthening confidence and presence in front of an audience. They will each have an opportunity to work on and demonstrate their stronger voice.

Group Cohesion in a Virtual Setting: Participants will experience community-building activities for supporting engagement and learning. They will also learn practical strategies for managing group energy, focus, and accountability in schools and other settings.

Neurodiversity & Learning Differences: Participants will experience activities to help them appreciate neurodiversity, and they will learn multisensory tools to support neurodiverse individuals in the delivery of arts experiences. Participants will also explore ways in which behavior communicates needs.

Demonstration Day: This day is identical to Presentation Day (see description below)—think of it as a "dress rehearsal." Trainees will practice delivery of their social emotional arts lesson plan and experience the process of receiving feedback in preparation for their final weekend.

Presentation Day: Prior to this weekend, trainees will work in small groups to develop a needs-assessment plan, arts-based curriculum, and evaluation strategy. Each small group will facilitate their curriculum for other trainees in the course, who will participate fully in the experience. Each group will receive feedback from their peers and a panel of instructors to prepare them for more effective delivery in the real world.
Materials - What to Bring

A complete list of materials will be provided prior to the session; however generally:

Comfortable, movement-friendly clothing
A quiet and open space for movement
Pens, notepads, and the handouts provided prior to the session
Refund Policy

Withdrawal & Cancellation Policy: Withdrawal and cancellation refund requests must be submitted in writing tosea@uclartsandhealing.orgwith the subject header "SEA Withdrawal/Cancellation Refund Request."

UCLArts & Healing's refund policy for trainees who withdrawal or cancel enrollment in the Certificate Program in Social Emotional Arts is as follows:

Enrollment Cancellation 30+ Days Before Training Start Date
Full refund less a $100 administrative fee

Enrollment Cancellation 20 – 29 Days Before Training Start Date
Full refund less 20% of total tuition cost

Enrollment Cancellation 1 – 19 Days Before Training Start Date
Full refund less 25% of total tuition cost

No Show or Withdrawal on Week 1
Full refund less 30% of total tuition cost

Withdrawal on Week 2
Full refund less 40% of total tuition cost

Withdrawal on Week 3
Full refund less 50% of total tuition cost

Withdrawal on Week 4
Full refund less 60% of total tuition cost

Withdrawal on Week 5
Full refund less 70% of total tuition cost

Withdrawal on Week 6
Full refund less 80% of total tuition cost

Withdrawal on Weeks 7, 8 or 9
100% of total tuition cost owed

If there is a balance owed to UCLArts & Healing, the balance must be paid in full within three months from the withdrawal date of the Certificate Program in Social Emotional Arts.

Requests for any exceptions to the above policy will be considered only under emergency circumstances and only if a request letter is sent describing the trainee's circumstance to sea@uclartsandhealing.org.
Digital Media Release Policy

By registering, you give UCLArts & Healing approval to record this event, still and/or moving images from which may appear in printed materials or digital channels for archival, educational, or promotional purposes.

Note that Zoom breakout rooms are not recorded.
For More Information

To learn more about the difference between our Certificate Program in Social Emotional Arts and our Social Emotional Arts on a Shoestring training, click here.

For additional assistance, please email sea@uclartsandhealing.org.