Regular price
Sale price
$39.00 USD
Unit price
per
Sale
Sold out
date:
Sunday, October 15, 2023
time:
10:00 am to 12:00 pm Pacific Time (PT)
instructor(s):
Karen Calhoun, MM
Ping Ho, MA, MPH
View full details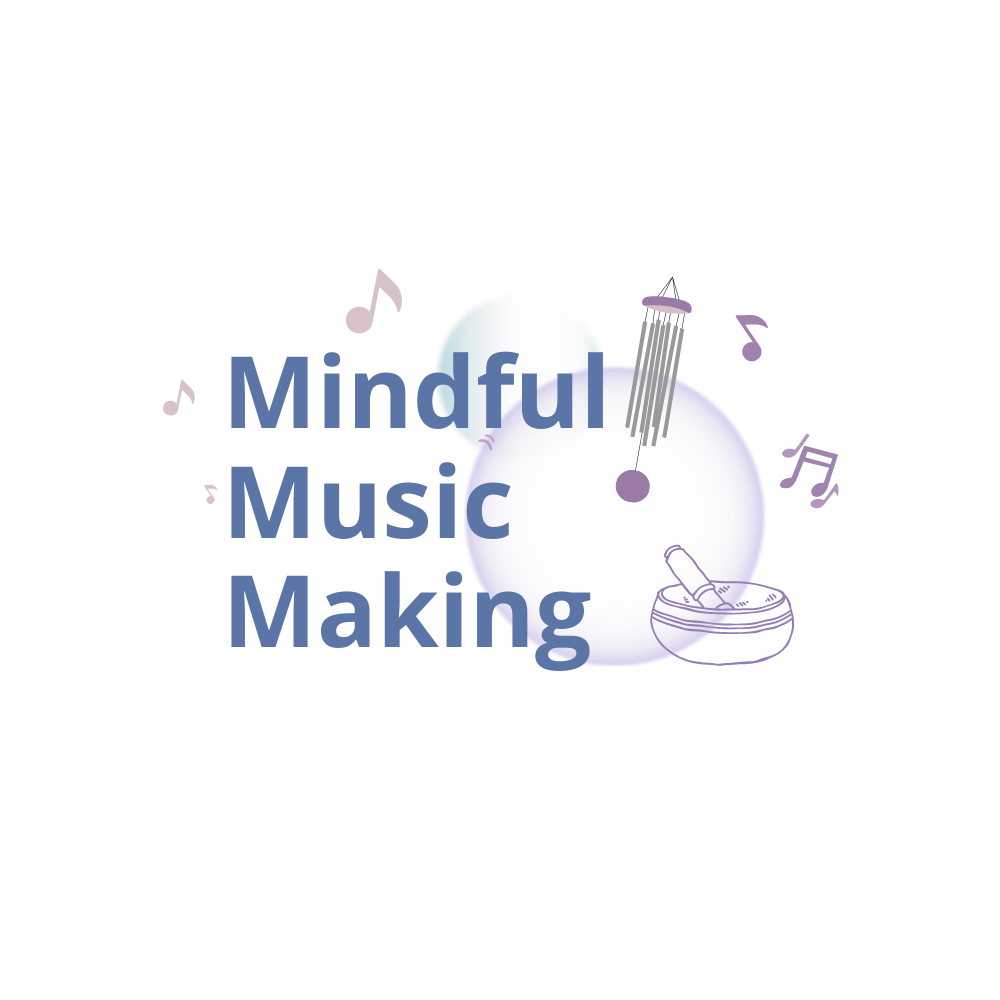 Mindful Music Making
Bring calm and focus into your daily life, classroom, and community setting in as little as five minutes with Mindful Music Making. This sound-and-movement-based process is both easy and effective for any population as well as for your own self-care—and no musical background is required.

In this online training, you will learn to use a variety of instruments—even homemade—to create a mindful soundscape, and you will experience a variety of ways to deliver Mindful Music Making. You will also discover ways to support the process using nonjudgmental language. Recorded examples of Mindful Music Making in action will be shared, and you'll receive a comprehensive set of guidelines for delivery.
additional information
Testimonials

"I have seen students from K-12 close their eyes (still contributing to the music meditation) and zone out through the music being made. They have said, "Thank You, Ms. C....I feel so calm and can get through the day!" Mindful Music Making should start every student's day!!! K-12!!!!" —Mindful Music Making Creator, Karen Calhoun
Instructor Bio

Karen Calhoun, MMis currently the Director of Music for the Langley United Methodist Church in Langley, WA. Karen has worked in the education field for the past 30 years. She taught classes in Music Appreciation and Jazz History for Riverside Community College, and she taught both high school instrumental and vocal music in the Alhambra and El Segundo Unified School Districts in Southern California.  Karen subsequently worked for nine years as the Director of Instrumental Music at Norwalk High, and she worked for another nine years as Visual and Performing Arts Coordinator for Norwalk-La Mirada Unified School District (in Los Angeles County).

Karen holds an Associate of Arts in Music from Mt. San Antonio College, a Bachelor of Arts in Music Education from California State University - Fullerton, and a Master of Music in Performance from CSU - Fullerton.  She holds an Instructor of Music Credential for the CA Community Colleges and a K-12 Single Subject Music Credential from CSU - Long Beach.   Karen is Certified in Orff-Schulwerk Level 1.

Awards include: 2002-2003 and 2005-2006 Norwalk High School Teacher of the Year; 2005-2006 Norwalk-La Mirada District Teacher of the Year; 2005-2006 Los Angeles County Top 20 Teachers of the Year; 2005 PTSA Honorary Service Award for Norwalk High; 2011 California Music Educators Association Ernest R. Yee Memorial Multicultural Music Award, 2013 PTSA Golden Oak Service Award, and the 2014 Distinguished Women of the California 57thAssembly District Honor.

Ping Ho, MA, MPHis Founder and Director of UCLArts & Healing, and a steering committee member of the UCLA Integrative Medicine Collaborative. She was founding administrator for the UCLA Cousins Center for Psychoneuroimmunology, which led to the privilege of writing for Norman Cousins and co-writing the professional autobiography of George F. Solomon, M.D., founder of the field. She has a BA in psychology with honors from Stanford—where she was appointed to establish the still-thriving Health Improvement Program for faculty and staff, an MA in counseling psychology with specialization in exercise physiology from the University of California, Santa Barbara, and an MPH in community health sciences from UCLA School of Public Health.

Ping is associate editor for the Creative Arts Therapies section of theJournal of Integrative and Complementary Medicineand has been Co-Chair of the annual Expressive Therapies Summit: Los Angeles, which has offered 150+ workshops on creativity and the arts in healing. She developed the Certificate Program in Social Emotional Arts (SEA) and the SEA on a Shoestring program of supportive art, movement, music, and writing for individuals or groups in any setting. In addition, she co-developed and served as principal investigator for the evidence-based program, Beat the Odds®: Social and Emotional Skill Building Delivered in a Framework of Drumming. Ping is co-author, with Erica Curtis, of the 2019 National Parenting Products Award-winning book,The Innovative Parent: Raising Connected, Happy, Successful Kids through Art (Ohio University/Swallow Press, March 2019).
Materials - What to Bring

Something pleasant sounding on which to drum—an actual drum of any kind, a pillow, a bucket, a large plastic water jug, or a large food storage container will do 
Something to use as a shaker—a supplement bottle, a box of mints, a plastic container filled with rice, or carob seed pods, for example
A scarf
Any "real" percussion instruments you may have that make meditative or nature sounds, such as rainsticks, ocean drums, tongue drums, ankle shakers, kalimbas, chimes, Himalayan bowls, bells, frog rasps, bird whistles, guiros, etc
Online Login Details

This is a online program through Zoom.  A welcome email, which includes the link to join the program, will be sent to you after you register.
Digital Media Release Policy

By registering, you give UCLArts & Healing approval to record this event, still and/or moving images from which may appear in printed materials or digital channels for archival, educational, or promotional purposes.

Note that Zoom breakout rooms are not recorded.
Financial Assistance

We believe transforming lives through creative expression should be financially accessible. Please reach out to us at info@uclartsandhealing.orgfor scholarship and payment plan information.
Refund Policy

In order to keep our programs affordable yet self-sustaining, we regret that we are unable to offer refunds for cancellation; however, we are happy to provide you with credit good for one year from the date of the program toward the next offering of the same program or a different one. Credit applied toward a program with higher registration fees will require payment of the balance. In addition, credit may be applied toward purchase of curriculum materials for any program. Unused fees after one year would then be tax deductible to the fullest extent of the law because no goods or services would have been received for them.