Regular price
Sale price
$0.00 USD
Unit price
per
Sale
Sold out
Date:
Wednesday, January 24, 2024
Time:
Noon to 1:00 pm Pacific Time (PT)
Instructors:
Brittany Dufeal
Carlos Mares 
Olivia Wu 
Series Description:
In this free, three-part series, learn how our social emotional arts (SEA) practices enhance the innate power of the arts. In each virtual session, we'll experience an exemplary lesson plan developed and presented by a team of Certificate Program alums. This will be followed by a moderated discussion regarding the intentions and supportive elements of the session, for professional applications and/or personal benefit.
Session Description:
The Best Practices Series is intended to demonstrate the social emotional arts process in different contexts. This session was designed to help transitional age youth in their journey to independent living, and the activities apply to anyone who making a major life transition.
Invisible Travel Bag: A Journey of Resilience
Join us on an empowering journey as we provide tools and support for transitional-age students to fill their Invisible Travel Bag with resilience, self-awareness, and a vibrant tapestry of coping skills that will ultimately prepare them for the exciting yet challenging adventure of independent living. The journey begins with self-reflection, engaging each of the five senses with mindful movement for identifying mood, feelings, and thoughts with the help of a visual map called "Wonderland." The power of poetry is the vehicle for transcendence, allowing expression of innermost thoughts and sensations. This immersive, virtual session in mindful activation is intended to enhance healthy coping skills, fortify protective factors, and nurture meaningful connections with peers within the high school setting.
This series is funded by the Los Angeles County Arts Ed Collective in partnership with Flourish Agenda, and the Los Angeles County Department of Arts and Culture.
View full details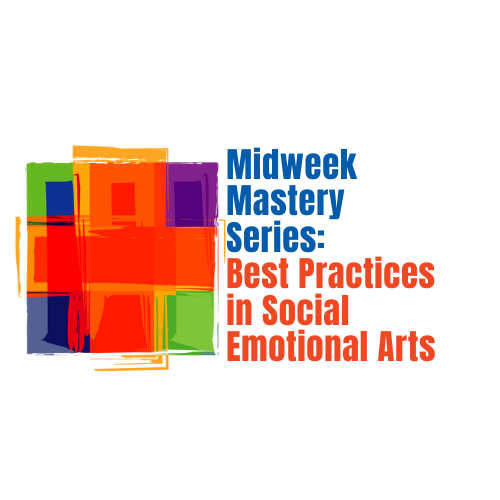 additional information
Instructor Bios

Brittany Dufeal is a creative soul who loves to express herself through the arts and writing. She has a decade of experience in the human services industry, where she has helped many people overcome their challenges and achieve their goals. Brittany is a mental health advocate who believes that healing is a personal and holistic process that should not be confined by any limitations. She is the founder of The Healing Hive Foundation, a non-profit organization that supports BIPOC women who are survivors of sexual trauma. The Healing Hive Foundation offers various holistic approaches to healing, such as yoga, meditation, social emotional arts, and more. Brittany's mission is to empower and inspire women to reclaim their voice, their power, and their joy.

Carlos Mares serves as a high
school wellness therapist, and is the Founder of Play, Dream & Heal Counseling Corporation. Carlos faced immense challenges growing up, including grappling with his sexual orientation in a society that often lacks understanding. He overcame adversity, survived two suicide attempts, and now stands as a symbol of resilience. As a therapist, he's dedicated to providing the understanding and compassion he once longed for. He wants today's youth to know
they're valued just as they are.

Olivia Wu has been an advocate for LGBTQ+ and wellness for 15 years. She is the founder of a wellness space in Taiwan that uses traditional and creative modalities to offer healing. She is also the director of a multi-day charity bike ride. 
Materials - What to Bring

Space for movement
Paper
Writing utensils
Digital Media Release Policy

By registering, you give Arts & Healing Initiative approval to record this event, still and/or moving images from which may appear in printed materials or digital channels for archival, educational, or promotional purposes.

Note that Zoom breakout rooms are not recorded.